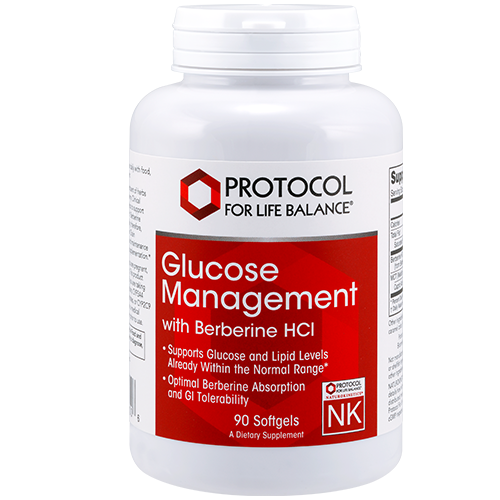 ITEM NUMBER: P4600
COUNT: 90 Softgels
Glucose Management with Berberine HCl
90 Softgels
-Supports Glucose and Lipid Levels Already Within the Normal Range*
-Optimal Berberine Absorption and GI Tolerability
How it Works: 
Berberine is a natural constituent of herbs such as goldenseal, Oregon grape, and barberry. Clinical studies have demonstrated that berberine helps to support already normal glucose and lipid metabolism.* Berberine is, however, known for its limited bioavailability; therefore, this product includes caprate (C10, a medium chain triglyceride) to promote optimal absorption and maintenance of gastrointestinal comfort during berberine supplementation.*
Suggested Usage:
Take 1 softgel 3 times daily with food, or as directed by your healthcare practitioner.
Cautions / Interactions:
Do not use if you are pregnant, may become pregnant, or are breastfeeding. This product may cause mild gastrointestinal discomfort. If you are taking medications (especially anti-diabetes medications, CYP3A4 substrates such as cyclosporine, CYP2D6 substrates, or CYP2C9 substrates such as dextromethorphan) or have a medical condition, consult your healthcare practitioner prior to use.
Natural color variation may occur in this product.
* These statements have not been evaluated by the Food and Drug Administration. This product is not intended to diagnose, treat, cure, or prevent any disease.