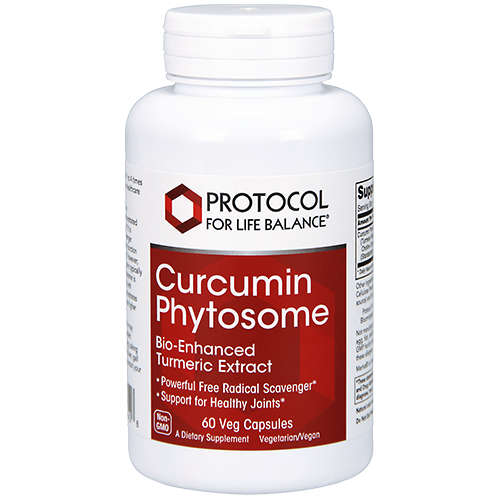 ITEM NUMBER: P4642
COUNT: 60 Veg Capsules
Curcumin Phytosome (Bio-Enhanced Turmeric Extract)
60 Veg Capsules
-Powerful Free Radical Scavenger*
-Support for Healthy Joints*
How it Works: 
Curcumin, the active component in Turmeric, has been demonstrated to support joint mobility and flexibility.* It is known to be a potent free radical scavenger and supports balanced immune system function responses to normal metabolic stress.* However, due to its limited bioavailability, Curcumin typically requires high dosage.* Curcumin Phytosome is a unique form of Curcumin complexed with Phosphatidylcholine that clinically demonstrates Curcuminoid absorption that is 29 times higher than a standard Curcumin mixture.*
Suggested Usage:
Take 1 capsule 1 to 4 times daily with food, or as directed by your healthcare practitioner.
Cautions / Interactions:
Curcumin may interact with anticoagulant and antiplatelet medications. If you are pregnant/nursing, taking these medications, or have a history of liver, gall bladder or gastrointestinal problems, consult your healthcare practitioner prior to use.
Natural color variation may occur in this product. Do Not Eat Freshness Packet. Keep in Bottle.
Meriva® is a registered trademark of Indena S.p.A.
* These statements have not been evaluated by the Food and Drug Administration. This product is not intended to diagnose, treat, cure, or prevent any disease.