ProtoZymes™
Digestive Health*
Broad Spectrum Chewable Enzymes
How it Works
ProtoZymes™ is a broad spectrum digestive enzyme formulation designed to support optimal breakdown and absorption of proteins, fats, and carbohydrates, including lactose, to ensure maximum nutritional value for you and your children.* ProtoZymes™ has been designed especially for children, but it can also be used by adults to enhance bioaccessibility of nutrients consumed in foods.* BioCore® is a registered trademark of National Enzyme Company.
Suggested Usage
Adults: Chew 2 tablets with or before each meal. Children (ages 4 & up): Chew 1 tablet with or before each meal. Or use as directed by your healthcare practitioner. Keep lid tightly sealed.
Cautions / Interactions
There are no known drug interactions.
Natural color variation may occur in this product.
Do Not Eat Freshness Packet. Keep in Bottle.
* These statements have not been evaluated by the Food and Drug Administration. This product is not intended to diagnose, treat, cure, or prevent any disease.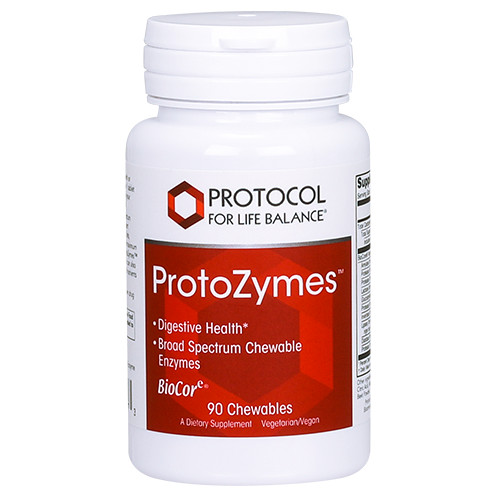 Item Number

: P2957

Count

: 90 Chewables