Pantethine
300 mg
Supports Healthy Serum Lipids Already Within the Normal Range*
Biologically Active Form of Vitamin B5
How it Works
Pantethine, a biologically active form of pantothenic acid (vitamin B-5), is the precursor of coenzyme A (CoA) and acyl-carrier protein (ACP), which are both essential cofactors in the metabolism of carbohydrates, lipids and amino acids.* Pantethine has been shown to promote liver and vascular health through its ability to support healthy lipid metabolism in these tissues.* Clinical and non-clinical studies suggest that pantethine can support healthy serum lipid levels that are already within the normal range.*
Suggested Usage
Take 1 softgel 2 to 3 times daily with food, or as directed by your healthcare practitioner.
Cautions / Interactions
Pantethine may interact with anti-coagulant and anti-platelet medications, including warfarin, clopidogrel, NSAIDs, and others. If you are taking any of these medications, or if you are planning a surgical procedure, consult your healthcare practitioner before using this product.
Natural color variation may occur in this product.
* These statements have not been evaluated by the Food and Drug Administration. This product is not intended to diagnose, treat, cure, or prevent any disease.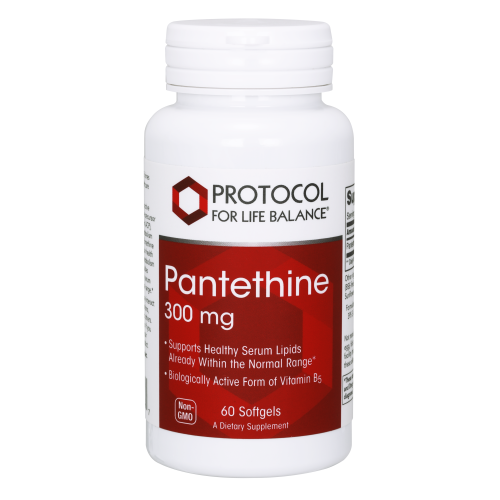 Item Number

: P0487

Count

: 60 Softgels