OrthoFlora Yeast Support™
With Pau D'Arco, Oregano Oil, Black Walnut & Caprylic Acid
Supports Healthy Balance of Intestinal Flora*
How it Works
OrthoFlora Yeast Support™ is a unique formula with nutritional and traditional herbal ingredients that may help to support a healthy balance of intestinal flora.* Candida albicans is a naturally occurring yeast that typically resides in the gut as part of the normal gut flora.* It is well known that a proper composition of intestinal organisms is critical to healthy digestive and immune system function, as well as for the support of proper detoxification processes.* Although OrthoFlora Yeast Support™ is not meant to clear Candida albicans from the gut, it can help to support a healthy balance of intestinal flora, a healthy immune system, proper detoxification, and overall digestive well-being.*
Suggested Usage
Take 2 capsules daily with food, or as directed by your healthcare practitioner.
Cautions / Interactions
Ingredients in this product may interact with hormonal medications such as insulin. If you are taking medications or if you are pregnant/nursing, consult your healthcare practitioner prior to use. May cause mild transient gastrointestinal discomfort. Keep out of reach of children.
For more information about the potential interference between biotin supplementation and blood tests, read this  ProtoFact.
Natural color variation may occur in this product.
* These statements have not been evaluated by the Food and Drug Administration. This product is not intended to diagnose, treat, cure, or prevent any disease.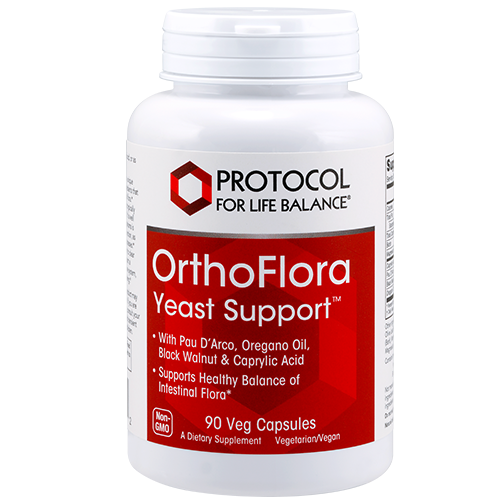 Item Number

: P3308

Count

: 90 Veg Capsules