Ortho Dophilus™
8 Strains & 4 Billion Per Capsule
With FOS / Dairy & Gluten Free
Supports Healthy Immune System & Healthy Digestion*
How it Works
Probiotic bacterial species are known to exist and thrive in the human digestive tract. These microorganisms assist in proper digestion, support detoxification, and are a necessary component of healthy immune system function.* Ortho Dophilus™ is a combination of scientifically tested strains of friendly bacteria with FOS included to encourage their healthy growth.* The probiotic strains in this product have been identity- verified using DNA-fingerprinting technology.
Suggested Usage
Take 1 capsule 2 to 3 times daily, or as directed by your healthcare practitioner.
REFRIGERATE TO MAINTAIN POTENCY.
Cautions / Interactions
Antibiotic medications may reduce the efficacy of probiotic supplements. In addition, there may be some concern when using probiotic supplements in immunocompromised individuals. Probiotic supplements may cause minor, temporary digestive disturbance in some individuals. In these cases reduce or discontinue use of this product until discomfort ceases; then gradually increase to full dose.
* These statements have not been evaluated by the Food and Drug Administration. This product is not intended to diagnose, treat, cure, or prevent any disease.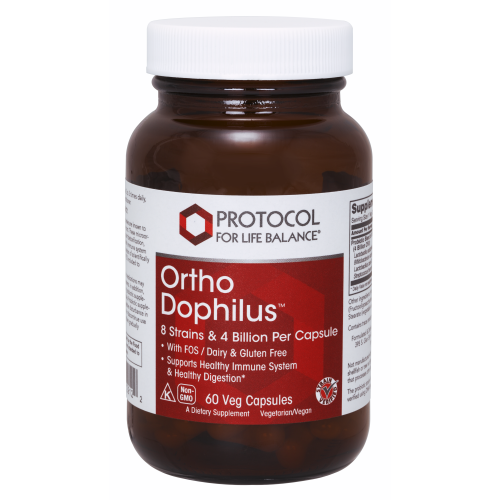 Item Number

: P2912

Count

: 60 Veg Capsules