NAC
600 mg - N-Acetyl-Cysteine
With Selenium & Molybdenum
Maintains Cellular Health*
How it Works
N-acetyl-cysteine (NAC) is a stable form of the non-essential amino acid cysteine. Cysteine is a sulfur-containing amino acid that acts as a stabilizer for the formation of protein structures.* Although NAC possesses its own free radical scavenging activity, its primary function in the body is to supply cysteine necessary for glutathione synthesis and replenishment.* This unique formula also contains molybdenum, an essential trace element that functions as a cofactor in many biochemical reactions, and selenium, another trace mineral that supports glutathione production.*
Suggested Usage
Take 1 capsule twice daily, or as directed by your healthcare practitioner.
Cautions / Interactions
NAC may interact with certain pharmaceutical medications including ACE inhibitors and angina medications such as nitroglycerin and isosorbide. NAC may also interact with activated charcoal.
Keep freshness packets in bottle until it is empty. Keep bottle tightly closed at all times in between usage.
Natural color variation may occur in this product when exposed to air.
Speckling in capsule may occur but does not affect product quality. Do not eat freshness packets enclosed.
* These statements have not been evaluated by the Food and Drug Administration. This product is not intended to diagnose, treat, cure, or prevent any disease.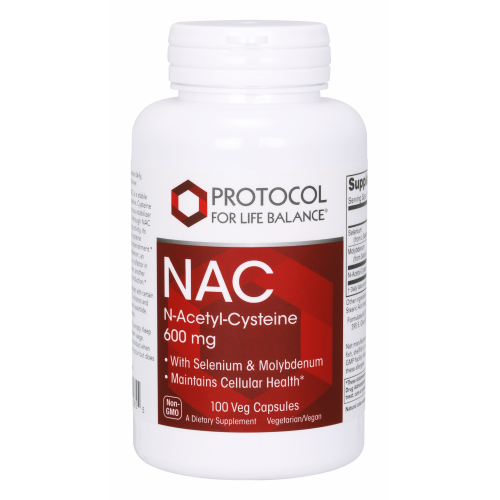 Item Number

: P0085

Count

: 100 Veg Capsules