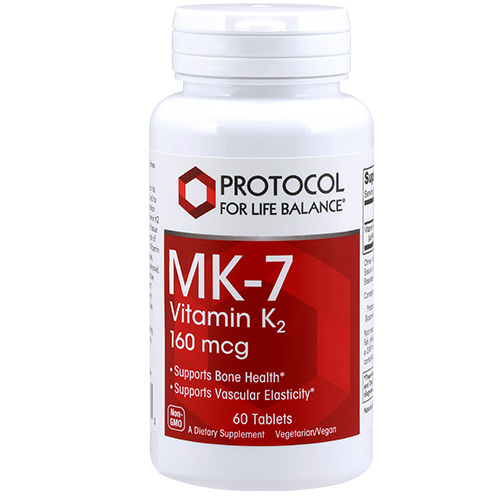 ITEM NUMBER: P0993
COUNT: 60 Tablets
MK-7 Vitamin K2
60 Tablets/160 mcg
-Supports Bone Health*
-Supports Vascular Elasticity*
How it Works: 
Vitamin K is well known for its role in blood clotting, but has also been found to play an important role in normal bone formation and the preservation of bone strength.* Vitamin K2 more specifically is a significant regulator of tissue calcification and is critical for the maintenance of arterial elasticity and cardiovascular health.* Vitamin K2 includes two of the most studied subtypes, MK-7 (Menaquinone-7) and MK-4 (Menatetrenone). MK-7, the most readily absorbed and bioactive form of K2, has no common dietary sources.* Unlike Vitamin K1, which is stored in the liver, MK-7 is transported directly to tissues and has a longer half-life than either K1 or MK-4.*
Suggested Usage:
Take 1 tablet 1 to 2 times daily.
Cautions / Interactions:
If you are taking warfarin or other anti-coagulant medications, consult your healthcare practitioner before taking this product.
Xylitol is harmful to pets; seek veterinary care immediately if ingestion is suspected. Learn more about pet safety.
Natural color variation may occur in this product.
* These statements have not been evaluated by the Food and Drug Administration. This product is not intended to diagnose, treat, cure, or prevent any disease.