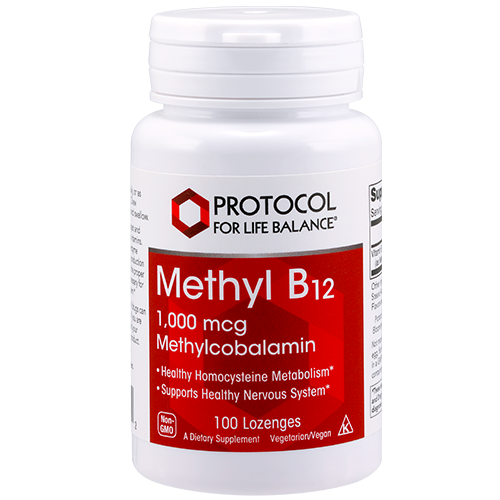 Item Number

: P0495

Count

: 100 Lozenges


Methyl B12
1,000 mcg - Methylcobalamin
Healthy Homocysteine Metabolism*
Supports Healthy Nervous System*
How it Works
Vitamin B12 has the largest and most complex chemical structure of all the vitamins. Most of its functions are related to its co-enzyme activity, such as enzymes required for the production of DNA during cell division, as well as for the proper disposal of homocysteine.* B12 is also necessary for the maintenance of a healthy nervous system.*
Suggested Usage
Take 1 lozenge daily, or as directed by your healthcare practitioner. Chew lozenge or hold in mouth until dissolved and swallow.
Cautions / Interactions
A number of drugs can affect vitamin B12 levels or its utilization. If you are taking any prescription medications, consult your healthcare practitioner before taking this product.
Natural color variation may occur in this product.
* These statements have not been evaluated by the Food and Drug Administration. This product is not intended to diagnose, treat, cure, or prevent any disease.