Liquid D3 & MK-7
2,500 IU (62.5 mcg) Vitamin D3 & 100 mcg Vitamin K2 per 5 drops
Bone & Cardiovascular Support*
How it Works
Liquid D-3 & MK-7 combines vitamins D-3 and K-2, two nutrients extensively researched for their roles in the health of bones, teeth and the cardiovascular system.* Vitamin D-3 works with calcium to support bone health, and more recent studies indicate it's important for immune system health as well.* MenaQ7® MK-7 is a unique soy-free, bioavailable form of vitamin K-2 that plays a critical role in arterial health through its ability to support proper calcium metabolism in blood vessels and arteries.* Vitamin K-2 is also important for the formation of strong, healthy bones.*
MenaQ7® is a registered trademark of NattoPharma ASA, Norway. Patents granted and pending.
Menaquinone-7 is produced via a fermentation process using chickpeas and non-GMO corn as substrates. This product is not derived from soy.
Suggested Usage
Shake well. Take 5 drops daily, or as directed by your healthcare practitioner. Take directly or add to a beverage. Best when taken with a fat-containing meal.
Cautions / Interactions
For adults only. Not for use in infants or children.
Vitamin D should be used cautiously by those taking cardiac glycosides and anyone with hypercalcemia. Vitamin D supplements may interact with atorvastatin and thiazide diuretics. Vitamin K is contraindicated with warfarin or other anti-coagulant medications. If you are taking any of these prescription medications, consult your healthcare practitioner before using this product.
Keep out of reach of children.
* These statements have not been evaluated by the Food and Drug Administration. This product is not intended to diagnose, treat, cure, or prevent any disease.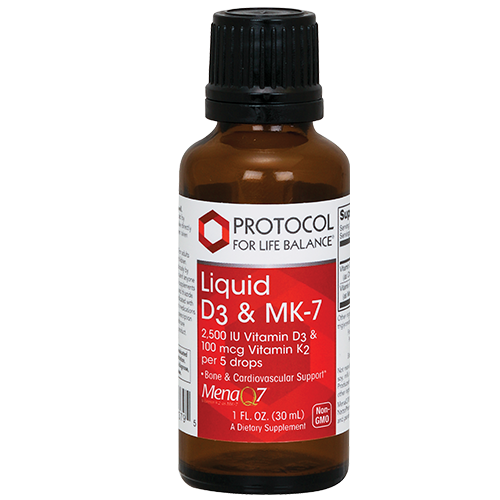 Item Number

: P0379

Count

: 1 fl. oz. (30 mL)