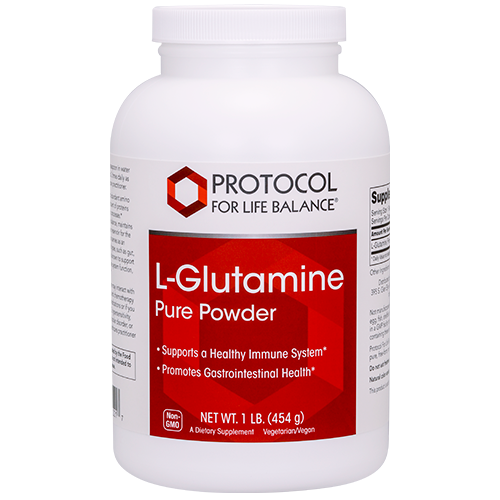 ITEM NUMBER: P0221
Net weight: 1 lb. (454 g)
L-Glutamine
Pure Powder
-Supports a Healthy Immune System*
-Promotes Gastrointestinal Health*
How it Works:  Glutamine, the most abundant amino acid in the body, is an important constituent of proteins and participates in many key metabolic processes.* Glutamine helps to regulate acid/base balance, maintains nitrogen balance, and acts as a nitrogen reservoir for the production of other amino acids.* It also serves as an important energy source for certain cell types, such as gut, immune, and kidney cells.* Glutamine is known to support gastrointestinal integrity, normal immune system function, and the preservation of muscle tissue.*
Suggested Usage: Mix 1 rounded teaspoon in water or juice, preferably between meals, 1 to 2 times daily as needed, or as directed by your healthcare practitioner.
Cautions / Interactions: Glutamine may interact with lactulose, anti-convulsant medications, and chemotherapy agents. If you are taking any of these medications or if you are pregnant/lactating, if you have MSG hypersensitivity, a kidney condition, a seizure disorder, bipolar disorder, or impaired liver function, consult your healthcare practitioner before using this product.
* These statements have not been evaluated by the Food and Drug Administration. This product is not intended to diagnose, treat, cure, or prevent any disease.