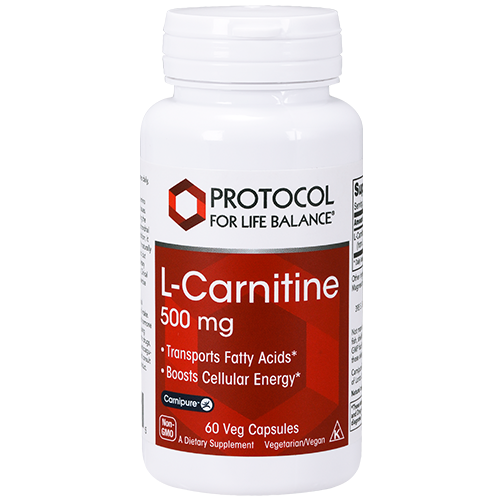 ITEM NUMBER: P0072
COUNT: 60 Veg Capsules
L-Carnitine
500 mg
-Transports Fatty Acids*
-Boosts Cellular Energy*
How it Works:  L-Carnitine is a non-essential amino acid that is abundant in heart, muscle and liver tissues. It helps to maintain metabolic health by facilitating the transfer of long-chain fatty acids across the mitochondrial membrane for cellular energy production.* In addition, it thereby assists the body in using fat for energy.* It naturally occurs in red meat and other animal source foods, but some people may have an increased need for dietary L-Carnitine due to high fat and vegetarian diets. Clinical studies indicate that L-Carnitine may promote exercise performance and recovery.*
Suggested Usage: Take 1 capsule 1 to 3 times daily, or as directed by your healthcare practitioner.
Cautions / Interactions: Mild gastrointestinal symptoms have been reported at higher levels of intake. Individuals with thyroid disease, or taking thyroid hormone replacement should consult a physician prior to using L-carnitine. It may also interact with anti-arrhythmic drugs, such as propafenone and mexiletine, as well as anticoagulant medications. Pregnant/nursing women should consult their healthcare practitioner before taking this product.
Do Not Eat Freshness Packet. Keep in Bottle.
Carnipure™ offers the purest L-Carnitine and is a trademark of Lonza Ltd, Switzerland.
* These statements have not been evaluated by the Food and Drug Administration. This product is not intended to diagnose, treat, cure, or prevent any disease.