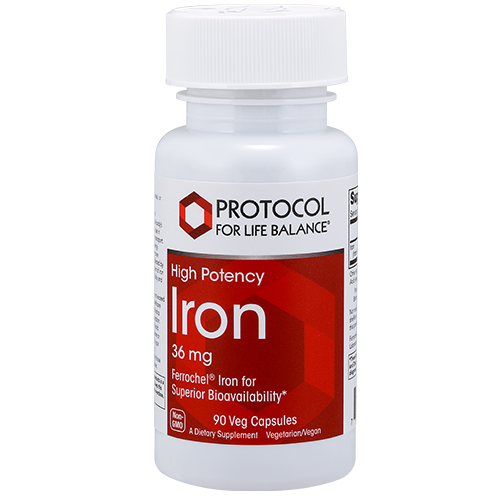 ITEM NUMBER: P1444
COUNT: 90 Veg Capsules
Iron (High Potency)
36 mg
-Ferrochel® Iron for Superior Bioavailability*
How it Works: 
Iron is a necessary component of hemoglobin, a protein that transports oxygen to the body's tissues, and of myoglobin, which stores oxygen for use in muscle tissues.* Because it is required for electron transport in mitochondria, normal iron status is critical for energy production and body temperature regulation.* Immune system function and neurological health are also affected by iron status.* This product features Ferrochel®, a form of iron that has clinically demonstrated superior bioavailability and is unlikely to cause GI distress or constipation.*
Suggested Usage:
Take 1 capsule daily with a meal, or as directed by your healthcare practitioner.
Cautions / Interactions:
For adults only. Do not exceed recommended dosage unless directed by your healthcare practitioner. Some medications, such as some antibiotics and bisphosphonates, may interfere with iron absorption. Iron supplements may interact with L-Dopa and thyroid medications. Take medications at least 2 hours before or 2 hours after iron-containing supplements. Consult your healthcare practitioner if pregnant/nursing, taking medication, or have a medical condition (especially those related to iron storage). Keep out of reach of children.
WARNING: Accidental overdose of iron-containing products is a leading cause of fatal poisoning in children under 6. Keep this product out of reach of children. In case of accidental overdose, call a doctor or poison control center immediately.
Natural color variations may occur in this product.
* These statements have not been evaluated by the Food and Drug Administration. This product is not intended to diagnose, treat, cure, or prevent any disease.