Hyaluronic Acid
100 mg with Co-Factors
Joint Support*
Structural Component of Skin*
How it Works
Hyaluronic Acid (HA) is a naturally occurring glycosaminoglycan that is found in every tissue in the body. HA is particularly concentrated in the eyes, skin and synovial fluid, where it functions as one of the body's main lubricating components.* HA also plays a critical role in the formation of cartilage, as well as in the maintenance of healthy skin.*
Suggested Usage
Take 1 capsule 1 to 2 times daily, preferably with food, or as directed by your healthcare practitioner.
Cautions / Interactions
There are no known drug interactions.
Do Not Eat Freshness Packet. Keep in Bottle.
Natural color variation may occur in this product.
* These statements have not been evaluated by the Food and Drug Administration. This product is not intended to diagnose, treat, cure, or prevent any disease.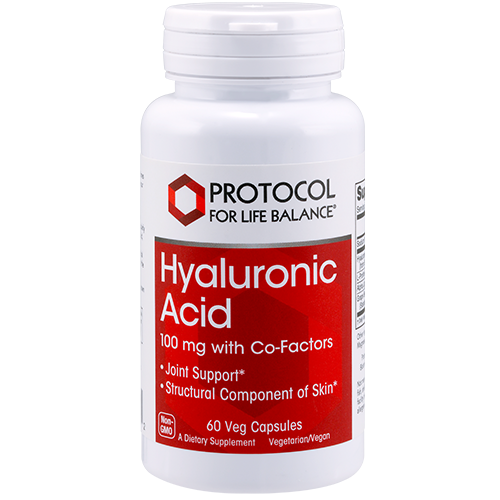 Item Number

: P3155

Count

: 60 Veg Capsules