Grape Seed OPC
250 mg
90% Polyphenols including OPCs
Powerful Free Radical Scavenger*
How it Works
Grape Seed OPC is a highly concentrated natural extract with a minimum of 90% Polyphenols, including OPCs (Oligomeric Proanthocyanidins), the powerful free radical scavenging compounds found in grape seeds.*  Grape Seed Extract and OPCs have been the subject of numerous scientific studies that demonstrate their ability to affect key molecules involved in the maintenance of healthy tissues and the support of cardiovascular health.* In addition, preliminary studies suggest that Grape Seed Extract may protect healthy brain and nerve tissues.*
Suggested Usage
Take 1 capsule 1 to 2 times daily with food, or as directed by your healthcare practitioner.
Cautions / Interactions
OPCs may interact with anticoagulant medications, such as warfarin, heparin, clopidogrel, ticlopidine, pentoxifylline, and aspirin. Consult your healthcare practitioner before taking this product if you are taking blood thinning medications.
Natural color variation may occur in this product.
* These statements have not been evaluated by the Food and Drug Administration. This product is not intended to diagnose, treat, cure, or prevent any disease.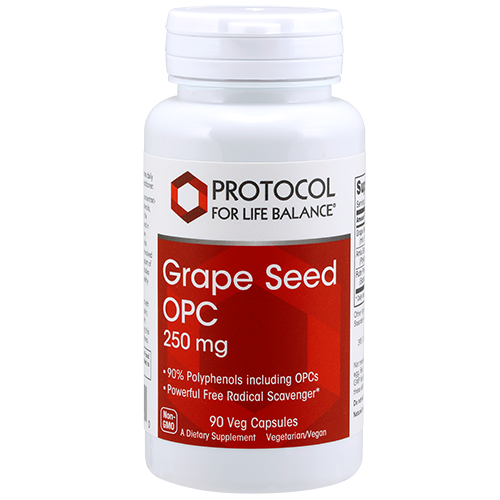 Item Number

: P3274

Count

: 90 Veg Capsules