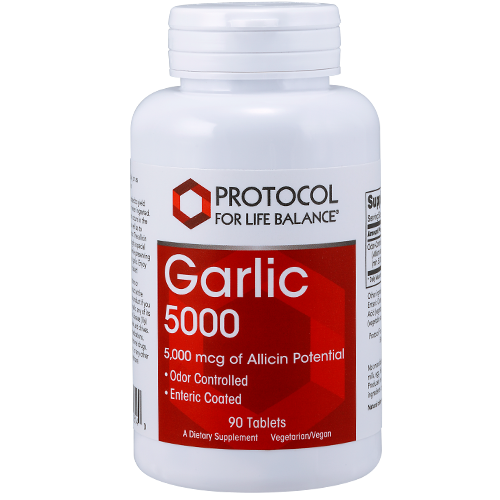 Item Number

: P1814

Count

: 90 Tablets

Garlic 5000
5,000 mcg of Allicin
Odor Controlled
Enteric Coated
How it Works
This garlic product is standardized to yield allicin and allicin precursors, which convert to allicin when ingested. It is enteric coated so that this conversion occurs in the upper intestine for optimal absorption, while it avoids the release of garlic's pungent odor in the stomach. Allicin precursor levels are achieved through a special process that keeps garlic's moisture low. This process maintains allicin precursors while preserving all of the natural goodness of whole fresh garlic. Enjoy the benefits of this odor-controlled garlic tablet!
Suggested Usage
Take 1 tablet daily, or as directed by your healthcare practitioner.
Cautions / Interactions
No interactions or contraindications are known with this product at the suggested level of intake. Do not use this product if you have a known allergy/hypersensitivity to garlic, any of its constituents, or to other members of the Liliaceae (lily) family, including hyacinth, tulip, onion, leek, and chives. Garlic may interact with blood thinning medications, isoniazid, protease inhibitors, and anti-retroviral drugs. If you are taking any of these medications, or any other prescription medication, consult your healthcare practitioner before taking this product.
* These statements have not been evaluated by the Food and Drug Administration. This product is not intended to diagnose, treat, cure, or prevent any disease.