Chewable Probiotic
2 billion CFU
Supports Healthy Immune System Function*
2 Billion, 10 Probiotic Strains
Sweetened with Xylitol
For Children and Adults
New Round Shape
How it Works
Protocol For Life Balance® Chewable Probiotic is a great-tasting, chewable probiotic supplement sweetened with xylitol. The bacterial strains in this product have been scientifically tested and chosen for their ability to  support healthy immune system and GI functions.* These bacterial strains are particularly hardy and have been shown to adhere to the intestinal lining, thereby helping to maintain intestinal integrity.* This product can be used by both adults and children. The probiotic strains in this product have been identity-verified using DNA-fingerprinting technology.
Suggested Usage
For children (age 2 & up) and adults: Chew 1 tablet 1 to 3 times daily between meals or on an empty stomach. For children under 2, use only on the advice of your healthcare practitioner. Tablet to be chewed or crushed; not to be swallowed whole.
KEEP LID TIGHTLY SEALED.
REFRIGERATE TO MAINTAIN POTENCY.
Cautions / Interactions
Probiotic supplements may cause mild, but transient GI discomfort. Individuals with severe immune system deficit and those taking immune-suppressing medications should consult their healthcare practitioner before taking this product. Because antibiotics may inactivate some probiotic bacteria, take at least 2 hours before or after taking antibiotic medications.
Xylitol is harmful to pets; seek veterinary care immediately if ingestion is suspected. Learn more about pet safety.
* These statements have not been evaluated by the Food and Drug Administration. This product is not intended to diagnose, treat, cure, or prevent any disease.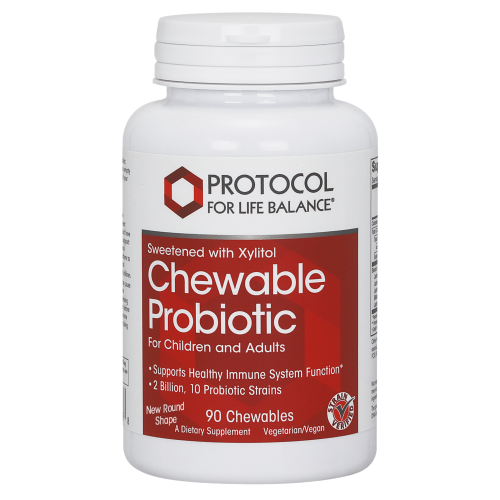 Item Number

: P2936

Count

: 90 Chewables