Biotin
5,000 mcg
Normal Glucose Metabolism*
Healthy Hair, Skin & Nails*
How it Works
Biotin is a water-soluble vitamin necessary for cell growth, the production of fatty acids, and the metabolism of fats and amino acids.* It also plays key roles in gluconeogenesis and fatty acid synthesis, and is therefore critical for maintaining proper glucose and lipid metabolism.* Biotin is also known to be important for healthy skin, hair and nails.*
Suggested Usage
Take 1 capsule daily, or as directed by your healthcare practitioner.
Cautions / Interactions
Certain anti-seizure medications (carbamazepine, phenobarbital, phenytoin, primidone, and valproic acid) and long-term antibiotic therapy may increase the body's need for biotin. If you are taking any of these medications, consult your healthcare practitioner before using this product.
For more information about the potential interference between biotin supplementation and blood tests, read this  ProtoFact.
* These statements have not been evaluated by the Food and Drug Administration. This product is not intended to diagnose, treat, cure, or prevent any disease.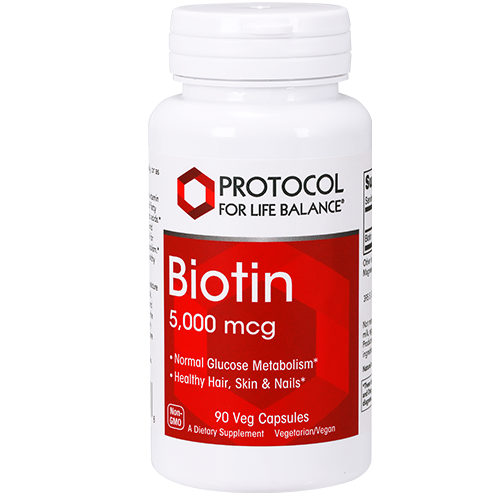 Item Number

: P0471

Count

: 90 Veg Capsules