BioCore® Enhanced Enzymes™
Scientifically Tested Enzymes
Maximum Food Utilization*
Also Helps Bean and Cabbage Digestion*
How it Works
Digestive enzymes are essential to the body's absorption and full use of food. The capacity of the body to make enzymes diminishes with age in some individuals, and therefore the efficiency of digestion may decline. BioCore® Enhanced Enzymes™ offers a blend of fungal-derived enzymes that will aid in the digestion of most foods, including beans and cruciferous vegetables.* The vegetarian enzymes in BioCore® Enhanced Enzymes™ have been tested in a controlled laboratory study using a digestive model for their activity throughout the entire pH range of the digestive system and have been shown not to be degraded by acid in the stomach.* BioCore Optimum™ is a trademark of National Enzyme Company.
Suggested Usage
Take 1 to 2 capsules before each meal, or as directed by your healthcare practitioner.
Cautions / Interactions
Galactosemics should consult their healthcare practitioner before use.
Do Not Eat Freshness Packet. Keep in Bottle.
Natural color variation may occur in this product.
* These statements have not been evaluated by the Food and Drug Administration. This product is not intended to diagnose, treat, cure, or prevent any disease.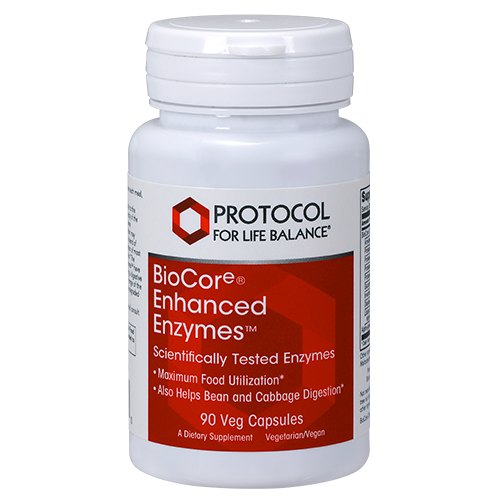 Item Number

: P2958

Count

: 90 Veg Capsules