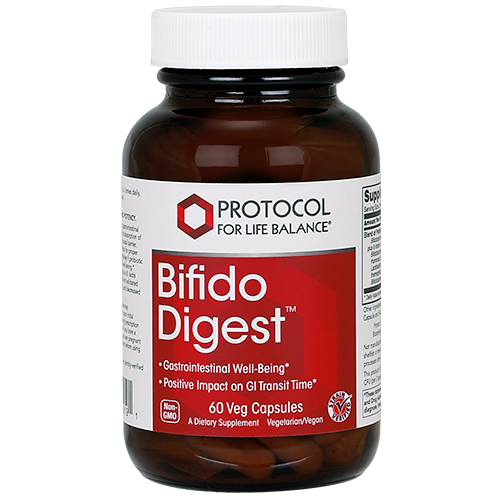 ITEM NUMBER: P2919
COUNT: 60 Veg Capsules
Bifido Digest™
60 Veg Capsules
-Gastrointestinal Well-Being*
-Positive Impact on GI Transit Time*
-Made without Dairy, Wheat, Gluten
How it Works: 
Intestinal bacteria support gastrointestinal (GI) health and digestion via the processing and absorption of nutrients and the maintenance of a healthy mucosal barrier. Maintenance of a balanced gut ecology is critical for proper immune system function. Bifido Digest™ combines 9 probiotic strains specifically chosen to help support GI well-being.* The predominant probiotic strain in this formula is B. lactis HN019™, which has been clinically evaluated and validated for its ability to support GI comfort, regularity, and decreased feeling of bloat.*
Suggested Usage:
Take 1-2 capsules 1 to 2 times daily, or as directed by your healthcare practitioner.
SHELF STABLE. AFTER OPENING KEEP REFRIGERATED TO EXTEND POTENCY.
Cautions / Interactions:
Some individuals may experience mild, but transitory GI discomfort upon initial supplementation with probiotics. If you are taking prescription medications, including immunosuppressants, if you have a condition related to immunodeficiency, or if you are pregnant or lactating, consult your healthcare practitioner before using this product.
The probiotic strains in this product have been identity-verified using DNA-fingerprinting technology.
* These statements have not been evaluated by the Food and Drug Administration. This product is not intended to diagnose, treat, cure, or prevent any disease.