Alpha-Lipoic Acid
600 mg
Free Radical Scavenger*
With Grape Seed Extract & Bioperine®
How it Works
Alpha-lipoic acid (ALA) is a versatile free radical scavenger that helps to maintain neural health by promoting nerve cell glutathione production, preserving optimal blood flow, and supporting normal nerve cell glucose utilization.* ALA may help to support the maintenance of healthy neural tissues, proper glucose metabolism, and normal cardiovascular function.* Bioperine® is a standardized pepper extract that is known to enhance the bioavailability of some nutrients.* Bioperine® is a registered trademark of Sabinsa Corporation.
Suggested Usage
Take 1 capsule daily, preferably with a meal, or as directed by your healthcare practitioner
Cautions / Interactions
Alpha-lipoic acid supplementation may interact with certain medications, especially anti-diabetes drugs. If you are taking any medications or if you are at risk for thiamin deficiency, or if you have a thyroid condition, consult your healthcare practitioner before using this product.
Natural color variation may occur in this product.
* These statements have not been evaluated by the Food and Drug Administration. This product is not intended to diagnose, treat, cure, or prevent any disease.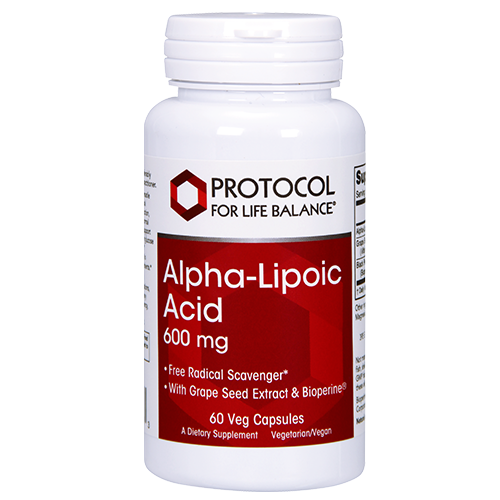 Item Number

: P3046

Count

: 60 Veg Capsules