Alpha-Lipoic Acid
250 mg
Supports Glutathione Production*
Universal Free Radical Quencher*
How it Works
Alpha-lipoic acid (ALA) is naturally produced in the human body in very small amounts, but is also available in some foods. ALA is unique in that it can function in both aqueous (water) and lipid (fat) environments, which allows it to easily cross biological membranes to exert its actions.* ALA is known to recycle vitamins C and E and some other free radical quenchers, extending their activities.* ALA also supports glutathione production, participates in healthy glucose metabolism, helps to support healthy neural tissues, and promotes healthy vascular function.*
Suggested Usage
Take 1 capsule daily, or as directed by your healthcare practitioner.
Cautions / Interactions
Alpha-lipoic acid supplementation may interact with certain medications, especially anti-diabetes drugs. If you are taking any medications or if you are at risk for thiamin deficiency, or if you have a thyroid condition, consult your healthcare practitioner before using this product.
Natural color variation may occur in this product.
* These statements have not been evaluated by the Food and Drug Administration. This product is not intended to diagnose, treat, cure, or prevent any disease.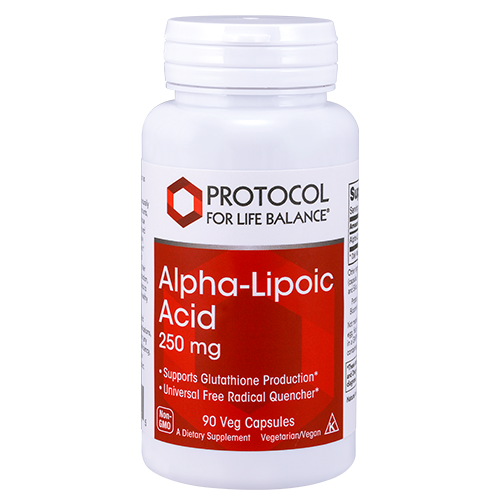 Item Number

: P3042

Count

: 90 Veg Capsules