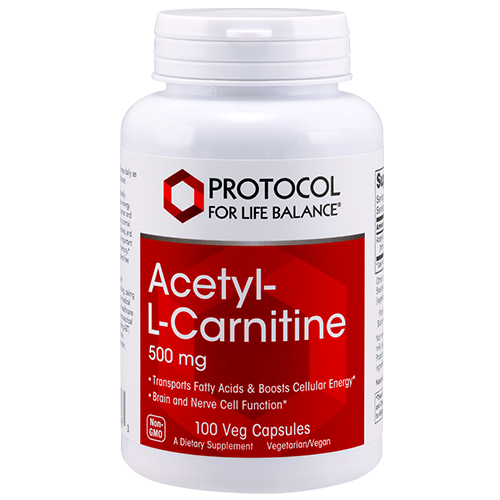 ITEM NUMBER: P0076
COUNT: 100 Veg Capsules
Acetyl L-Carnitine
500 mg
-Transports Fatty Acids & Boosts Cellular Energy*
-Brain and Nerve Cell Function*
How it Works: 
Acetyl-L-Carnitine (ALC) is a naturally occurring component of fat metabolism and cellular energy production.* ALC readily crosses the blood-brain barrier and promotes healthy nerve cell function by maintaining normal mitochondrial bioenergetics, stabilizing cell membranes, and contributing to the production of acetylcholine, an important neurotransmitter that plays a role in learning and memory.* ALC also supports the brain's natural defenses against free radical attack.*
Suggested Usage:
Take 1-2 capsule 1 to 3 times daily as needed, or as directed by your healthcare practitioner.
Cautions / Interactions:
ALC may interact with anticoagulant medications. If you are pregnant/nursing, taking medication (including thyroid hormones), or have a medical condition (including thyroid disorder), consult your healthcare practitioner before taking this product. Some pharmaceutical medications may increase the need for ALC, including AZT, certain antibiotics, isotretinoin, and some anti-seizure medications (carbamazepine, phenobarbital, phenytoin, and valproic acid).
Do not eat freshness packet. Keep in bottle.
* These statements have not been evaluated by the Food and Drug Administration. This product is not intended to diagnose, treat, cure, or prevent any disease.