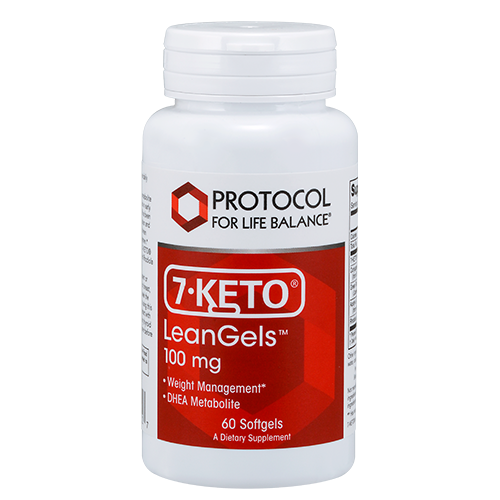 ITEM NUMBER: P3022
COUNT: 60 Softgels
7-KETO® LeanGels™
100 mg
-Weight Management*
-DHEA Metabolite*
How it Works: 
7-Keto-DHEA is a natural metabolite of dehydroepiandrosterone (DHEA) that peaks in early adulthood and declines with age.* 7-KETO® has been clinically shown to support healthy fat distribution and assist in the maintenance of a healthy weight when used alongside a healthy diet and exercise regimen.* In addition, 7-KETO® LeanGels™, combines 7-KETO® with green tea extract, acetyl-L-carnitine, and rhodiola extract to support cellular fat transport.*
Suggested Usage:
Take 1 softgel 2 times daily with food.
Cautions / Interactions:
If you are pregnant or nursing or if you are currently being treated for breast, prostate, or other hormonally related issues, seek the advice of your healthcare practitioner prior to using this product. 7-Keto-DHEA could theoretically interact with thyroid hormone replacement. If you are taking thyroid medications, consult your healthcare practitioner before using this product.
Natural color variation may occur in this product.
7-KETO® is a registered trademark of InterHealth Nutraceuticals Inc.
* These statements have not been evaluated by the Food and Drug Administration. This product is not intended to diagnose, treat, cure, or prevent any disease.