5-Methyl Folate
1,000 mcg
Metabolically Active Folate*
Superior Bioavailability
How it Works
Folate consumed in the diet or from supplements must be converted to its active form, 5-Methyltetrahydrofolate (5-MTHF), to be used by the body. This is a multi-step biochemical process that, in some circumstances, may not be efficient enough to meet the body's needs. In addition, unlike folic acid, 5-MTHF can penetrate the blood-brain barrier. This product utilizes a patented form of 5-MTHF with superior bioavailability. Quatrefolic® is a registered trademark of Gnosis S.p.A. and protected by U.S. Patent 7,947,662.
Suggested Usage
Take 1 tablet daily with a meal, or as directed by your healthcare practitioner.
Cautions / Interactions
For adults only. The elderly and individuals with conditions that may impair vitamin B-12 absorption should frequently check vitamin B-12 status when taking this product as high-dose folic acid may mask vitamin B-12 deficiency. Consult physician if pregnant/nursing, taking medication (especially phenobarbital, phenytoin, primidone, and methotrexate), or have a medical condition (especially
any condition involving nutrient malabsorption). Keep out of reach of children.
Do Not Eat Freshness Packet. Keep in Bottle.
Natural color variation may occur in this product.
* These statements have not been evaluated by the Food and Drug Administration. This product is not intended to diagnose, treat, cure, or prevent any disease.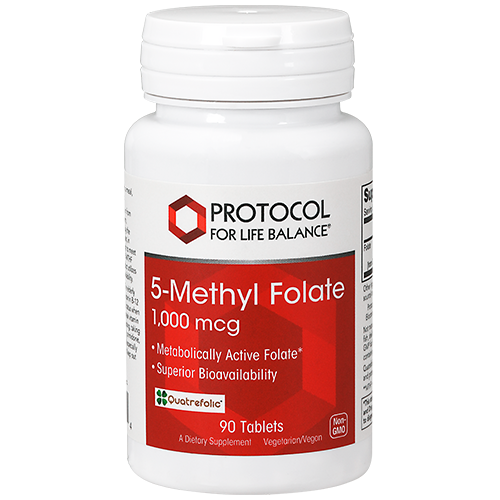 Item Number

: P0491

Count

: 90 Tablets