Vitamins D3& K2
1,000 IU (25 mcg) Vit D3 & 100 mcg Vit K2 Liposomal Spray
Supports Bone Health*
Healthy Cardiovascular System*
How it Works
Both Vitamin D3 and Vitamin K2 are well known for their roles in the maintenance of skeletal health.* In addition, emerging research indicates that both of these vitamins are also important for a healthy cardiovascular system.*
Suggested Usage
Shake well before use. Spray 1 time under tongue, hold for 20 seconds and then swallow. Consume 1 to 2 times daily, or as directed by your healthcare practitioner. Best when taken with a fat-containing meal.
Cautions / Interactions
Vitamin K2 may interact with anticoagulant medications. Vitamin D3 supplements may interact with atorvastatin and thiazide diuretics. If you are taking anticoagulant or any other pharmaceutical medications, cardiac glycosides, high-doses of Vitamin E, or if you have any bleeding disorder or hypercalcemia, consult your healthcare practitioner before using this product.
Xylitol is harmful to pets; seek veterinary care immediately if ingestion is suspected. Learn more about pet safety.
* These statements have not been evaluated by the Food and Drug Administration. This product is not intended to diagnose, treat, cure, or prevent any disease.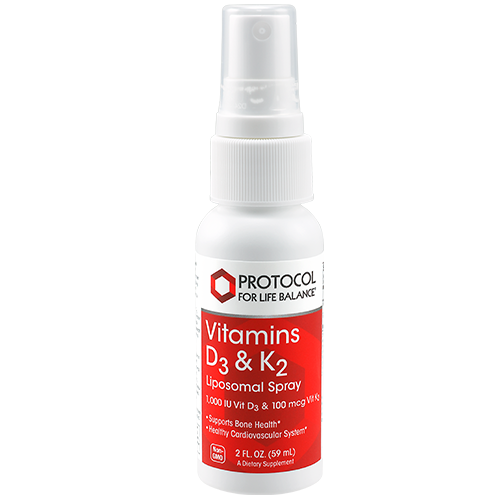 Item Number

: P0381

Count

: 2 fl. oz. (59 mL)