Chewable Vitamin D3
5,000 IU (125 mcg)
Helps Maintain Strong Bones*
Supports Immune System*
Natural Mint Flavor
How it Works
The major biologic function of vitamin D is to maintain healthy blood levels of calcium and phosphorus.* Vitamin D supports bone health by promoting calcium absorption and bone mineralization.* Vitamin D also plays an important role in immune function and helps to regulate cell growth and differentiation.*
Suggested Usage
Take 1 chewable tablet every 2 days with a fat-containing meal, or as directed by your healthcare practitioner.
Cautions / Interactions
Vitamin D should be used cautiously by those taking cardiac glycosides and anyone with hypercalcemia. Vitamin D supplements may interact with atorvastatin and thiazide diuretics. If you are taking any of these prescription medications, consult your healthcare practitioner before using this product.
Xylitol is harmful to pets; seek veterinary care immediately if ingestion is suspected. Learn more about pet safety.
Do not eat freshness packet. Keep in bottle.
Natural color variation may occur in this product.
* These statements have not been evaluated by the Food and Drug Administration. This product is not intended to diagnose, treat, cure, or prevent any disease.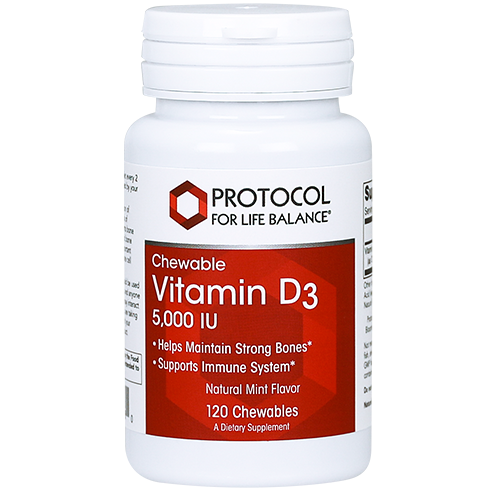 Item Number

: P0358

Count

: 120 Chewables