Ultra Omega 3-D™
600 mg EPA / 300 mg DHA + 1,000 IU (25 mcg) Vitamin D3
Molecularly Distilled
Cardiovascular Support*
In Fish Gelatin Softgel
How it Works
Fish oils are naturally abundant in the omega-3 fatty acids (FAs), EPA (eicosapentaenoic acid) and DHA (docosahexaenoic acid). These FAs are concentrated in eye and brain tissues, where they help to promote proper function of the central nervous system and support eye health.* Omega-3 FAs are also critical for proper immune system function, and help to maintain cardiovascular and joint health.* Ultra Omega 3-D™ is our most potent omega-3 formula, with 600 mg EPA and 300 mg DHA per softgel. This product is flavored with lemon oil and also provides 1,000 IU vitamin D3.
Suggested Usage
Take 1 softgel daily with a meal, or as directed by your healthcare practitioner.
Cautions / Interactions
Omega-3s may interact with anticoagulant/antiplatelet medications (including NSAIDs, clopidogrel, and warfarin) and antihypertensives. If you are taking any of these medications, or if you are planning to have surgery, consult your healthcare practitioner before using this product.
* These statements have not been evaluated by the Food and Drug Administration. This product is not intended to diagnose, treat, cure, or prevent any disease.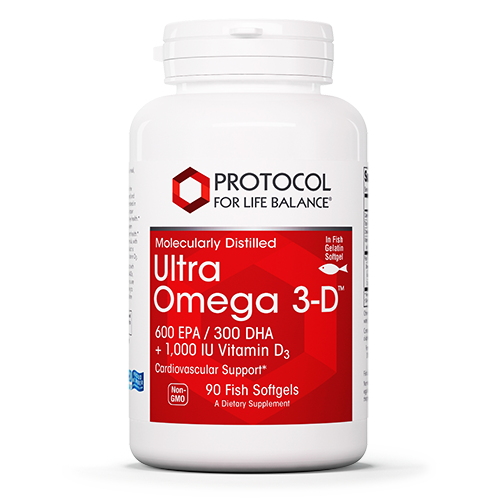 Item Number

: P1663

Count

: 90 Fish Softgels