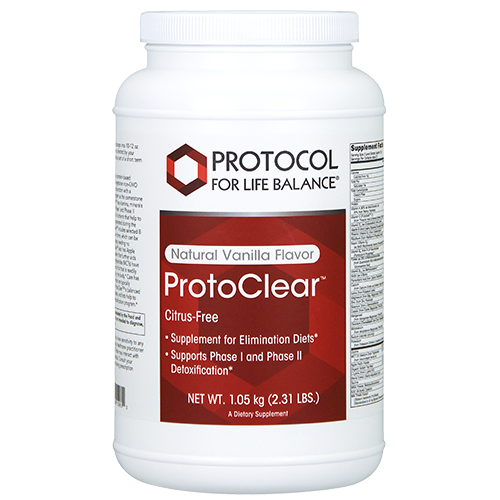 ITEM NUMBER: P5960
Net Wt. 1.05 kg (2.31 lbs.)
ProtoClear™
Natural Vanilla Flavor, Citrus-Free
-Supplement for Elimination Diets*
-Supports Phase I and Phase II Detoxification*
How it Works: 
ProtoClear™ is a protein-based nutritional supplement utilizing a vegetarian non-GMO Pea Protein designed for use in conjunction with a comprehensive detoxification program as the cornerstone of an elimination diet. ProtoClear™ has vitamins, minerals and other nutrients that support Phase I and Phase II detoxification, as well as a blend of nutrients that help to protect against the free radicals generated during the detoxification process.* ProtoClear™ includes selected B vitamins in their biologically active forms, which can be readily used by the cells of the body, needing no conversion by the liver.* Medium chain triglycerides (MCTs) have been included as a source of fat that is readily absorbed and utilized as energy by the body.* Care has been taken to select ingredients that are typically nonreactive in most individuals. ProtoClear™'s balanced proportions of protein, carbohydrate, and fats help to sustain energy levels during a detoxification program.*
Suggested Usage:
Mix 2 level scoops into 10-12 oz. of water or other liquid, or as directed by your healthcare practitioner. To be used as part of a short term detoxification program.
Cautions / Interactions:
If you have sensitivity to any ingredients, please check with your healthcare practitioner before using this product. Milk Thistle may interact with tamoxifen and other pharmaceuticals. Consult your healthcare practitioner if you are taking prescription medications.
California Proposition 65 WARNING: Consuming this product can expose you to chemicals including lead which is known to the State of California to cause birth defects or other reproductive harm. For more information go to www.P65Warnings.ca.gov/food.
* These statements have not been evaluated by the Food and Drug Administration. This product is not intended to diagnose, treat, cure, or prevent any disease.