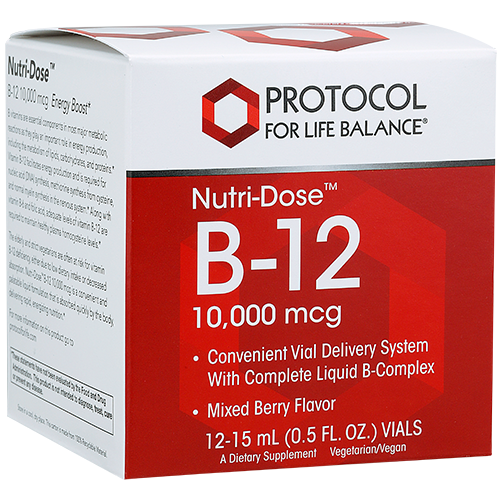 ITEM NUMBER: P0453
12 : 15 mL (0.5 FL. OZ.) VIALS
Nutri-Dose™ B-12
10,000 mcg
– Convenient Vial Delivery System With Complete Liquid B-Complex
– Mixed Berry Flavor

How it Works: 
B Vitamins are essential components in most major metabolic reactions as they play an important role in energy production, including the metabolism of lipids, carbohydrates, and proteins.* Vitamin B12 facilitates energy production and is required for nucleic acid (DNA) synthesis, methionine synthesis from cysteine, and normal myelin synthesis in the nervous system.* Along with vitamin B6 and folic acid, adequate levels of vitamin B12 are required to maintain healthy plasma homocysteine levels.*
The elderly and strict vegetarians are often at risk for Vitamin B12 deficiency, either due to low dietary intake or decreased absorption. Nutri-DoseTM B-12 10,000 mcg is a convenient and palatable liquid formulation that is absorbed quickly by the body, delivering rapid, energizing nutrition.*
Suggested Usage:
Shake plastic vial before using. Snap off top of vial, squeeze liquid contents into mouth and swallow. Take 1 vial daily with a meal, preferably in the morning, or as directed by your healthcare practitioner.
Cautions / Interactions:
For adults only. Consult physician if pregnant/nursing, taking medication, or have a medical condition. Keep out of reach of children. Xylitol is harmful to pets; seek veterinary care immediately if ingestion is suspected. Learn more about pet safety.
* These statements have not been evaluated by the Food and Drug Administration. This product is not intended to diagnose, treat, cure, or prevent any disease.