Meno-Transition
PHYTOESTROGEN FREE
Botanical Extracts for Menopausal Symptoms*
Fast Acting*†
How it Works
Meno-Transition is a clinically tested blend of pure water extracts from Phlomis umbrosa, Cynanchum wilfordii, and Angelica gigas Nakai. Recent clinical studies demonstrate that this herbal combination can alleviate symptoms of menopause and peri-menopause such as hot flashes, night sweats, nervousness, occasional sleeplessness, and difficulty in maintaining a positive mood.*† Meno-Transition offers an excellent alternative to isoflavones and black cohosh. † 50% of women experienced improvement in at least one menopausal symptom within 7 days of use, with 75% experiencing improvement in at least one menopausal symptom within 14 days.*
Suggested Usage
Take 1 capsule twice daily, or as directed by your healthcare practitioner.
Cautions / Interactions
Not for pregnant or nursing women. Angelica gigas Nakai could theoretically interactwith NSAIDs. If you are taking anti-inflammatory medications, consult your healthcare practitioner before using this product.
Natural color variation may occur in this product.
* These statements have not been evaluated by the Food and Drug Administration. This product is not intended to diagnose, treat, cure, or prevent any disease.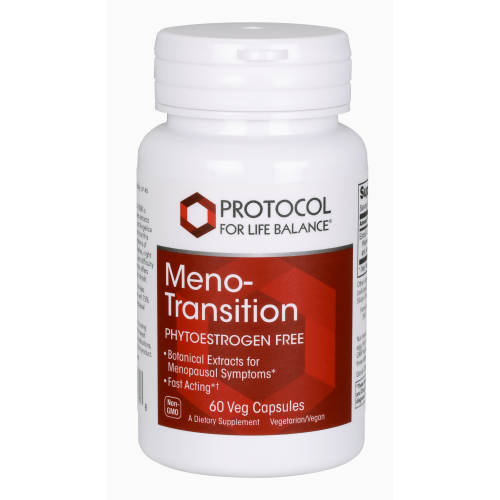 Item Number

: P3377

Count

: 60 Veg Capsules