Glucosamine & Chondroitin
Supports Joint Comfort and Flexibility*
How it Works
Glucosamine is a naturally occurring structural compound that is normally found in healthy cartilage, bone, and synovial fluid.* Glucosamine is an amino sugar that is a building block for larger molecules known as glycosaminoglycans (GAGs). GAGs are essential components of connective tissues that function to lubricate joints, absorb shock, and allow these tissues to resist pressure.* Chondroitin is one of the major GAGs found in joint tissue that is important in maintaining structural integrity.* The body's production of GAGs however, decreases with age. Clinical studies indicate that Glucosamine can help to maintain healthy and flexible joints, thereby supporting joint comfort.* Chondroitin, which has also been found to support joint health, lends an additional layer of structural support.*
Suggested Usage
Take 2 tablets daily, or as directed by your healthcare practitioner.
Cautions / Interactions
Do not use if you are allergic to shellfish. Glucosamine may interact with warfarin and some chemotherapy agents. If you are taking any of these medications, consult your medical practitioner before using this product.
Warning: Persons with a known allergy to shellfish should not use this product.
Natural color variation may occur in this product.
Do not eat freshness packet. Keep in bottle.
* These statements have not been evaluated by the Food and Drug Administration. This product is not intended to diagnose, treat, cure, or prevent any disease.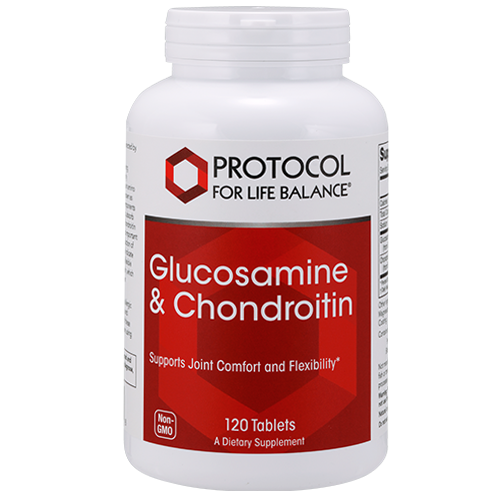 Item Number

: P3243

Count

: 120 Tablets