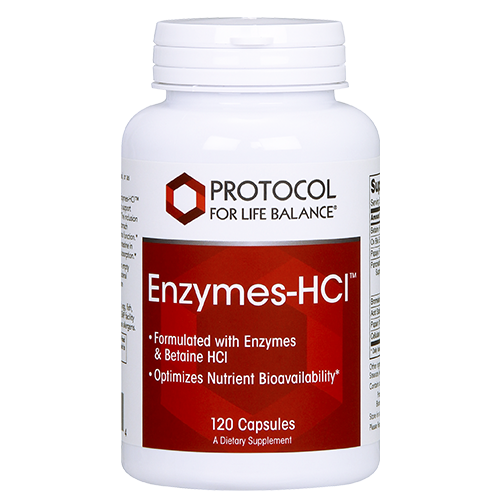 Item Number

: P2963

Count

: 120 Capsules
Enzymes-HCl™
Formulated with Enzymes & Betaine HCl
Optimizes Nutrient Bioavailability*
How it Works
Protocol For Life Balance® Enzymes-HCl™ is a comprehensive enzyme formula designed to support both gastric and intestinal digestive functions.* The inclusion of Betaine HCl helps to start digestion by the stomach and prepares the correct pH to stimulate intestinal function.* A full spectrum of proteases further assists the intestine in the complete breakdown of food for enhanced absorption.*
Suggested Usage
Take 1 capsule with a meal, or as directed by your healthcare practitioner.
Cautions / Interactions
Do not take on an empty stomach. Do not take in case of stomach or duodenal ulcers. If you are diabetic, consult your healthcare practitioner before using this product.
Do Not Eat Freshness Packets. Keep in Bottle.
Natural color variation may occur in this product.
* These statements have not been evaluated by the Food and Drug Administration. This product is not intended to diagnose, treat, cure, or prevent any disease.