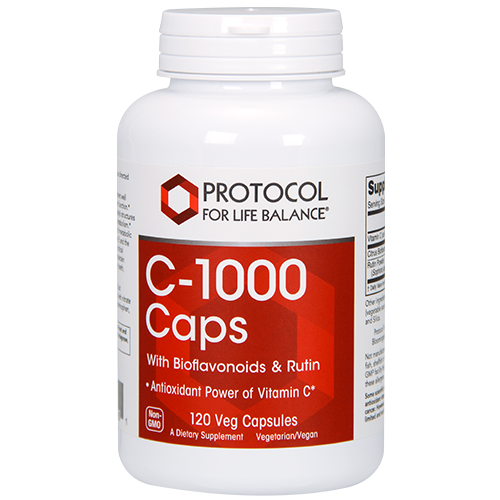 ITEM NUMBER: P0690
COUNT: 120 Veg Capsules
C-1000 Caps with Bioflavonoids & Rutin
120 Veg Capsules
-Antioxidant Power of Vitamin C*
How it Works: 
Vitamin C is an essential nutrient well known for its support of healthy immune system function.* As a powerful antioxidant, it can protect the body's structures from oxidative damage generated by cellular metabolism.* Vitamin C plays an important role in a number of metabolic functions, including the regeneration of Vitamin E and the activation of folic acid.* Because Vitamin C is a critical cofactor in the formation of collagen, it helps maintain the connective tissue that supports skin, bones, teeth, and arterial walls.*
Suggested Usage:
Take 1 capsule daily, or as directed by your healthcare practitioner.
Cautions / Interactions:
May cause mild, but transient GI discomfort. Vitamin C may interact with nitrate medications, furosemide (a loop diuretic), acetaminophen, and tetracycline.
Natural color variation may occur in this product. Do Not Eat Freshness Packet. Keep in Bottle.
Some scientific evidence suggests that consumption of antioxidant vitamins may reduce the risk of certain forms of cancer. However, FDA has determined that this evidence is limited and not conclusive.
* These statements have not been evaluated by the Food and Drug Administration. This product is not intended to diagnose, treat, cure, or prevent any disease.