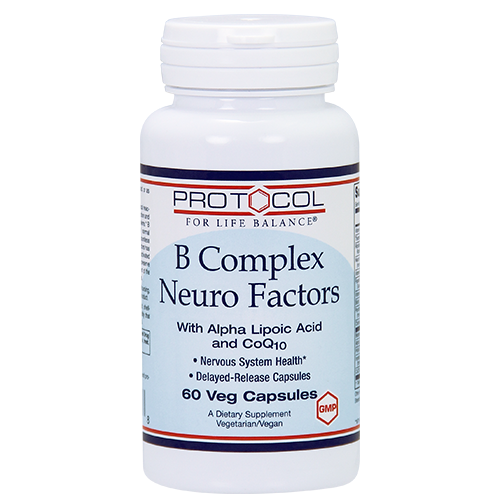 ITEM NUMBER: P0406
COUNT: 60 Veg Capsules
B Complex Neuro Factors with Alpha Lipoic Acid and CoQ10
60 Veg Capsules
-Nervous System Health*
-Delayed-Release Capsules
How it Works: 
As co-factors in numerous biochemical reactions, B Complex vitamins are critical for energy production and the proper metabolism of carbohydrates, fats, and proteins.* B Vitamins are also important for the maintenance of normal nervous system function, blood cell production, and countless other metabolic processes.* Our B Complex Neuro Factors has a balanced combination of B Vitamins in their activated CoEnzyme states. Acid-resistant capsules help to preserve ingredient integrity through the harsh acidic environment of the stomach for intact delivery to intestinal absorption sites.
Suggested Usage:
Take 2 capsules daily with food, or as directed by your healthcare practitioner.
Cautions / Interactions:
If you are pregnant/nursing, consult your healthcare practitioner before using this product.
Do Not Eat Freshness Packet. Keep in Bottle. Natural color variation may occur in this product.
Quatrefolic® is a registered trademark of Gnosis S.p.A. and protected by U.S. Patent 7,947,662.
* These statements have not been evaluated by the Food and Drug Administration. This product is not intended to diagnose, treat, cure, or prevent any disease.