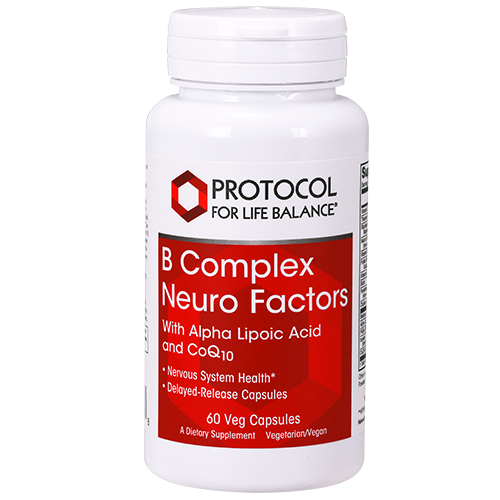 ITEM NUMBER: P0406
COUNT: 60 Veg Capsules
B Complex Neuro Factors
with Alpha Lipoic Acid and CoQ10
60 Veg Capsules
-Active Co-Enzyme Forms
-Nervous System Health*
How it Works:  As co-factors in numerous biochemical reactions, B Complex vitamins are critical for energy production and the proper metabolism of carbohydrates, fats, and proteins.* B Vitamins are also important for the maintenance of normal nervous system function, blood cell production, and countless other metabolic processes.* Our B Complex Neuro Factors has a balanced combination of B Vitamins in their activated Co-Enzyme states.
Suggested Usage: Take 2 capsules daily with food, or as directed by your healthcare practitioner.
Cautions / Interactions: If you are pregnant/nursing, consult your healthcare practitioner before using this product.
For more information about the potential interference between biotin supplementation and blood tests, read this  ProtoFact.
Not manufactured with wheat, gluten, soy, milk, egg, fish, shellfish or tree nut ingredients. Produced in a GMP facility that processes other ingredients containing these allergens Quatrefolic® is a registered trademark of Gnosis S.p.A. and protected by U.S. Patent 7,947,662.
* These statements have not been evaluated by the Food and Drug Administration. This product is not intended to diagnose, treat, cure, or prevent any disease.